Defeat Trigon in New DC Universe Online DLC, Out Today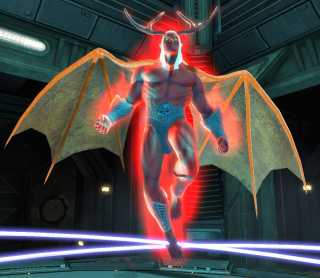 DC Universe Online recieves its eigth DLC update today. DC Universe Online, which hit rocky territory when it went free-to-play just months after its release in 2011, continues to expand on available content. The new DLC pack, Sons of Trigon, will add new powers, new group and solo misssions, and will finish the "Sins of the Father" story that originated in the main game. The new powers in the game rely on Celestial Combos, which combines the "divine and demonic, light and dark, holy and unholy" ways of combat. The announcement on PlayStation.Blog describes the Celestial Power wielder as a "battle healer, destined for the thick of combat."
Some more goodies found in the DLC include gear inspired by the DC hero Raven, a demonic weapon set, the "first big boss" fight of the game in the form of Trigon, solo daily missions in the Gotham Waste area, and more. DC Universe Online can be downloaded for free through the PlayStation Store.
Source: PlayStation.Blog
09/03/2013 02:40PM