Xbox One TV and Entertainment Launch Apps Revealed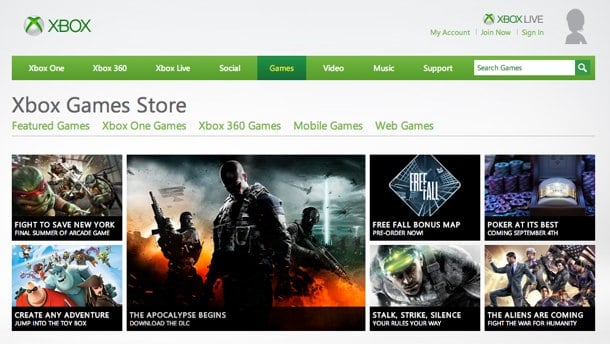 With just about two more weeks to go, Microsoft has unveiled their first wave of TV and entertainment apps for the Xbox One. The apps will be available across 13 different markets in their spective countries between the console's November 22 launch and spring 2014.
These apps, in particular, are said to be premium quality apps that respond to voice and gesture, and the apps themselves are said to be specifically designed for the living room. Built from the ground up, these apps are uniquely designed for the Xbox One, so they can better harness the Xbox One's capabilities. The entertainment apps list portfolio for both the Xbox One and the Xbox 360 will be updated weekly, and is as follows:
●Xbox Fitness
●Xbox Video
●Xbox Music
●Internet Explorer
●Skype
●SkyDrive
●Upload
These apps will be included with the Xbox One in every market by default, and will not require Xbox Live Gold membership to access. However, the following apps will require Xbox Live Gold membership in their respective countries in order to be accessed.
Australia
●Crackle
●Machinima
●MUZU TV
●Network Ten's tenplay
●Quickflix
●SBS On Demand
●TED
●Twitch
Canada
●CinemaNow
●Crackle
●Machinima
●MUZU TV
●Netflix
●Rogers Anyplace TV
●Sportsnet
●TED
●The NFL on Xbox One
●Twitch
United Kingdom
●4oD
●Amazon\LOVEFiLM
●blinkbox
●Crackle
●Demand 5
●Eurosport
●Machinima
●MUZU TV
●Netflix
●NOW TV
●TED
●Twitch
●Wuaki.tv
United States
●Amazon Instant Video
●Crackle
●CWTV
●ESPN
●FOX NOW
●FXNOW
●HBO GO (coming soon)
●Hulu Plus
●Machinima
●MUZU TV
●Netflix
●Redbox Instant by Verizon
●Target Ticket
●TED
●The NFL on Xbox One
●Twitch
●Univision Deportes
●Verizon FiOS TV
●VUDU
What's more, which is quite bemusing to me, the Xbox One will apparently empower these partners to "bring media achievements" experiences to the console, giving viewers the opportunity to earn badges and/or rewards for simply consuming media in addition to gaming.
The Xbox One will also allow you to create your own favorites in the console's OneGuide--the Xbox One's program guide, essentially a typical TV guide I imagine--so you can easily choose which one of your favorites you'd like to watch or switch to, just like a regular TV service and/or remote I assume, be it a TV channel or an entertainment app. You can even add photos and videos from the SkyDrive app to your favorites, for whatever reason.
Marc Whitten, Xbox chief product officer, explained that "we set out to make Xbox One the all-in-one games and entertainment hub for your home. The one system that offers the best games next to the best entertainment experiences and apps. Along with offering a stellar app portfolio from around the world, Xbox One takes the next step by offering them in a way that is seamless and easy to use."
Additionally, you can use the Xbox One's Bing feature to find the games, movies, music tracks, etc. that you're wanting without having to sift through all of them individually to find the specific one you're wanting at the time
Not sorry Xbox One, but I think I'll just stick with regular TV from my provider, YouTube, and the Internet in general.
Source: XboxWire
11/08/2013 03:55PM