DUST 514 1.7 Updated Detailed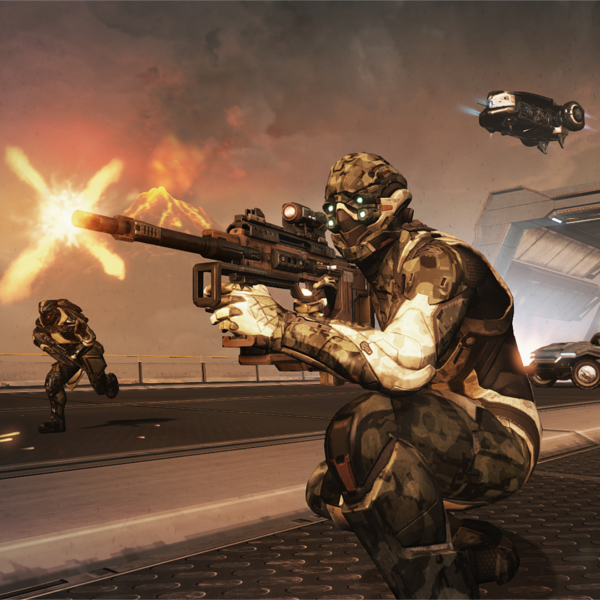 It's a good day for the war-profiteers of New Eden, especially for the mercenaries down planetside. The Uprising 1.7 update for DUST 514 has been released, and with it a bunch of new content has been added to DUST's arsenal.
For those of you who don't know, DUST 514 is a free-to-play FPS by CCP Games (the studio behind the sci-fi MMO EVE Online) that links seamlessly to the universe of EVE Online--meaning the two different games operate within the same server, so to speak, and can interact with one another despite being on different platforms. In DUST you play as an immortal mercenary whose role is to essentially wreck havoc upon worlds to control them, both for you and the EVE Online pilots in the sky. With various weapons, vehicles, armor and various other sci-fi goodies, you can have an impact on the ground in a way that may affect the entire EVE Online universe as a whole.
This Uprising 1.7 update comes with all-new weapons, an overhauled vehicle system, a new battlefield to die in, and some major changes to the Factional Warfare feature that is said to further strengthen the bond between Dust 514 and EVE Online.
The new weapons that come with this update include the Minmatar Combat Rifle, a semi-automatic that works well in both short- and mid-ranged combat; and the Caldari Rail Rifle, a railgun that's good for long-ranged combat and packs a big punch. Both these new toys round out the game's first full set of faction-aligned weaponry.
As for the overhauled vehicles, they have been modified to further enhance their roles within DUST 514 and have been tweaked for easier use. Better handling has been implemented, as well as a new process for streamlining the vehicle fitting system (which is claimed to lay the foundation for further new vehicle variations in the future.
Moving onto the new battlefield, a volcanic mood has been added to the roster, mixing up the map variety with fights for dominance next to--or in--super-hot magma, and a fiery date with death.
Lastly, the improvements to Factional Warfare feature deepen the stakes of battle as well the bond between DUST's older sister EVE Online. In this revamp, Orbital Strikes (once directly initiated on the ground) can now only be initiated when a capsuleer in EVE Online secures an orbiting satellite above the contested planet. Additionally, players taking part in Factional contracts will be rewarded with Loyalty Points, which can be spent for exclusive faction-aligned weaponry. Friendly fire also comes with the 1.7 update, heightening the stress, action and dangers of war as a planet is fought for.
DUST 514 is available exclusively on the PlayStation 3. You can find more information on the new weapons, vehicle enhancements and Factional Warfare improvements here, here and here respectively.
Source: Press release.
12/10/2013 06:01PM