Tomb Raider Mini-Statues Now Available for Pre-Order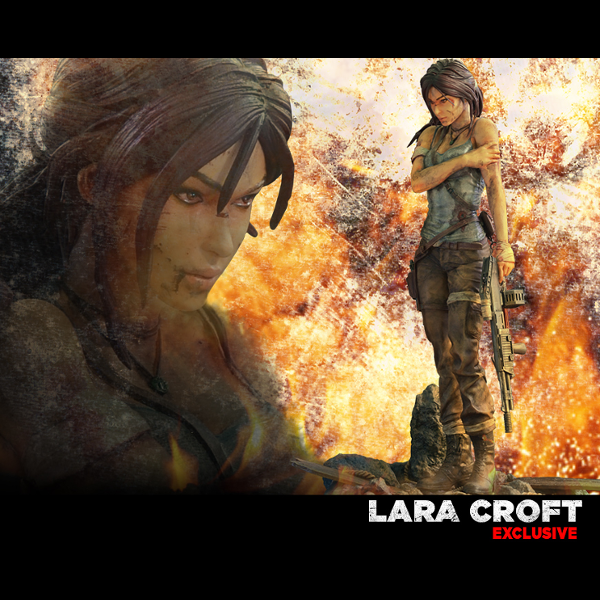 Collectible merchandiser Gaming Head announced yesterday that its new range of mini-statues of Lara Croft from this year's Tomb Raider reboot will be available via its online store in early 2014.
Standing at a hefty 20 inches (about ¼ to scale), Lara Croft is posed clutching her cut arm with her shoulders hunched on top of what is meant to be a cliff face, looking quite stoic in her expression (as much as what any emotion can come across in a miniature statue). The effigy itself is cast in polystone resin and the colour and finer details were finished off by hand. I'll hand it to Gaming Head, they really captured the idea of the rebooted Lara Croft in terms of authenticity. The face looks a wee bit off though, but that's just my opinion. Granted the range on display is not representative of the final product, so changes may be made by the time the range releases some time in Q2 next year.
Included with the statute is deluxe, full-color packaging, a hand numbered base and a certificate of authenticity (which will allow you to purchase the same model number in future releases of Gaming Head's Tomb Raider collection).
There are two editions to this Lara Croft statue that will be put into stock: the regular version and an exclusive version. The difference between the two is minor, but the price difference is about $20. The regular version of this statute includes Lara's signature bow, while the exclusive version comes with a combat shotgun in addition to the bow. $20, to me, seems a bit steep just to have the extra novelty of a shotgun, albeit a very well detailed one. Sure, it looks a bit more bad-ass, but I think I'll pass.
Both versions are available to pre-order on Gaming Head's online store. The regular version will set you back $319.99 and the exclusive version will leave your wallet wincing at $339.99. Now you know why I'm not exactly jumping on the idea of dropping an extra $20 just so I can get a little bit extra. If you happen to have the money to spend, and you want to treat yourself (or someone else) this winter holiday, then go right ahead!
However, both these versions have a stock limit. The regular version has 1000 units available for sale, while the exclusive version only has 500 units to sell. If you're wanting to have yourself a well-crafted Lara Croft statue, then make your decision quick before stocks run out.
You can pre-order both the regular and exclusive versions of the Lara Croft statue here and here respectively.
Source: Press release.
12/19/2013 06:37PM