Flappy Bird Removed from App Store and Google Play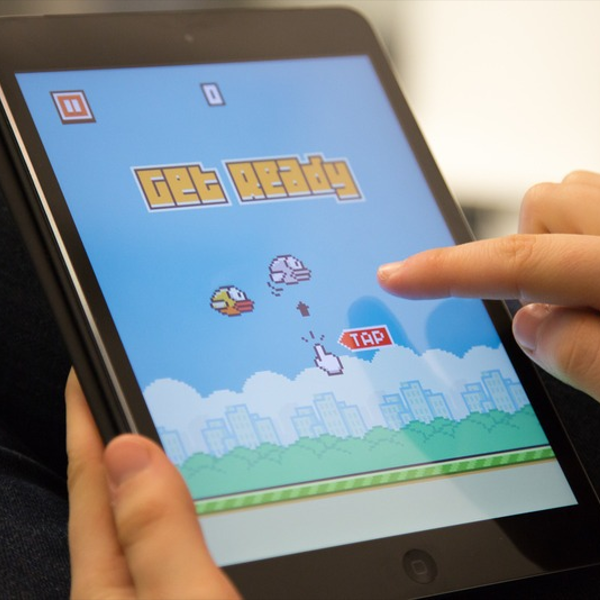 The somehow immensely popular mobile game that came out of nowhere, Flappy Bird, was removed from both the App Store and from Google Play over the weekend, as tweeted by the game's developer Dong Nguyen.
Flappy Bird, for those who are unaware, is a 2D side-scroller that features assets strikingly similar to those off of a retro Mario title. The aim of the game is to tap the bird so that it flies through an obstacle course of pipes while trying to avoid face-planting them, which results in an insta-death. The more pipes you miss successfully, the higher your score will be at the end of it (or until you next collide with a pipe).
According to LazyGamer, Nguyen was allegedly making $50,000 a day in ad revenue, despite the title itself being a free game. Even though the game has now been removed from both the App Store and Google Play, Nguyen allegedly still continues to generate ad revenue on the 50 million people who have already downloaded it.
In the subsequent tweets that followed his initial announcement, Nguyen states that the reason why he decided to remove Flappy Bird wasn't because of any legal issues, but more so that he "just [couldn't] keep it anymore." Speculation has been running rife as to why Nguyen has removed his game at the peak of its supposed popularity. One speculation that seems to connect the dots is that he just couldn't handle the pressure.
In the beginning of last week, Nguyen tweeted that "press people" were "overrating the success of [his] games," and that it's something that he doesn't want. A few days later, he tweeted that he can call Flappy Bird a "success of [his]," but it also "ruins [his] simple life. So now [he hates] it." So, it's likely that the increasing popularity of Flappy Bird was just becoming a bit too much for him to handle, and thus affected his well being in some way, but that's just a speculative deduction. Fortunately, though, he has stated that he "still [makes] games," so perhaps not all is lost of the young indie developer.
I do applaud his honesty on the matter, and I can empathise with how overwhelming pressure can really sap the enjoyment out of something you've created (I know that a bit too well). I hope things pan out okay for him.
02/10/2014 10:00PM