Competition for Thief Hoodie and $1000 Voucher for American Giant Detailed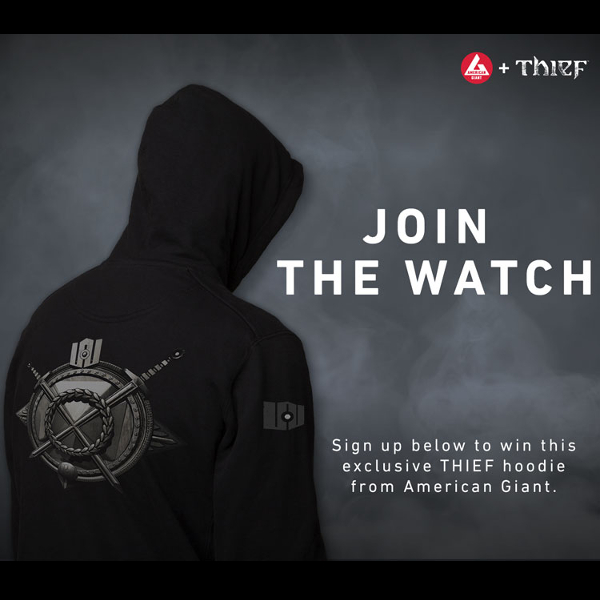 In a press release published yesterday (March 4, Tuesday), it was announced that Square Enix had partnered up with American Giant, a US- only clothing website that touts high quality apparel, to put together a random-draw competition to win an exclusive Thief hoodie, among other things.
In association with Xbox and Redbox, which had its app released onto the PS3 back in October, 2013, the competition will give 50 participants a chance to win and walk away with a goodie bag named the Thief Watchmen Kit, which includes the aforementioned Thief hoodie, a copy of the game on Xbox One, a 12-month Xbox Live Gold subscription, and a free Redbox game night every week for a year.
The Thief hoodie is 100 percent cotton, and is a pre-shrunk heavyweight hoodie with the Watch guard emblems.
The conditions of the Redbox promo code for this deal are limited to one code per transaction, regardless of how many rentals you take. The code is only valid at kiosk for a one-day videogame rental, unless specifically stated otherwise. The code is also not valid online, on Redbox's app or for prior rentals, also unless specifically stated otherwise. If you choose to rent more games than the one covered by your promo code, you'll have to pay for their respective rental rates. Applicable tax, except for MD rent transactions, may also have to be paid. For every night you do not return your rental before 9pm local time, you will be charged with the rental's full daily fee plus applicable tax.
Out of those 50 winners, one could be lucky enough to win the ultimate prize of an Xbox One console and $1000 voucher for American Giant, as well as the full contents of the Watchmen Kit. To register for the competition, head on over to American Giant here. The competition ends next Tuesday, March 11.
Thief was released on all platforms at the end of last month. Head over to read our Becky Cunningham's review on the game here if you fancy reading up on what it's like.
03/05/2014 09:37PM