SEGA Humble Bundle Announced for Charity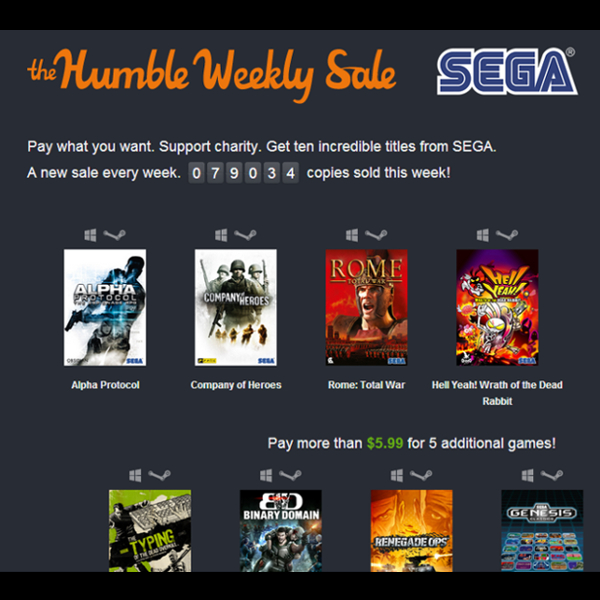 Detailed in a press release, SEGA of America has announced a Humble Bundle filled with SEGA titles. Those of you who log onto the Humble Bundle's website from now until March 20will be able to grab four SEGA games that are touted to be classics for less that $5.99, with the proceeds going to charity. Larger donations will reward you with more games set within a three tiered line-up.
If you choose to donate $5.99 or less, the first tier of the line-up, you will be given a Steam key for the following games: Alpha Protocol, Company of Heroes, Rome: Total War and Hell Yeah! Wrath of the Dead Rabbit. If you donate more that $5.99, the second tier will unlock, and you will receive a steam key to download Typing of the Dead: OVERKILL, Binary Domain, Medieval II: Total War, SEGA Genesis Collection and Renegade Ops. If you donate $14.99 or more, you will be give access to a third Steam key, which will let you download Total War: Shogun II.
All donated proceeds will be split up among five charities: Make-A-Wish, a charity that grants a wish of a child who is diagnosed with a life-threatening medical condition in US territories; Whale and Dolphin Conservation, an organisation that protects both whales and dolphins in the wild; Willow Foundation, a UK-based charity that supports 16 to 40 year olds who are seriously ill by providing unique and positive Special Days; Special Effect, a company dedicated to utilizing technology to enhance the quality of life of people with disabilities; and GamesAid, a videogame charity that acts as an umbrella to support a number of smaller charities who help disabled and disadvantaged children and young people.
"We're extremely proud to present gamers with a SEGA themed Humble Bundle." said John Clark, Vice President of Digital Distribution at SEGA, "It's a fantastic way to bring some of our classic games to a new audience while helping fund raising efforts for a variety of extremely good causes."
If you would like to make your donation, you can head on over to SEGA's Humble Bundle here.
03/14/2014 07:41PM