Microsoft Notices Fan-made Console UI for Xbox One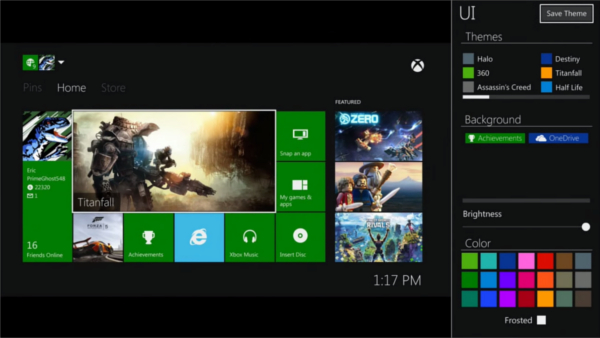 After viewing a mockup video--by YouTube user PrimeGhosts548--via the Xbox One sub-Reddit, which showcased how you could better customize the Xbox One's dashboard and more, Microsoft's Larry "Major Nelson" Hryb praised the YouTuber's vision of the console's user interface, so much so that he passed the video on to the other members of the Xbox team.
"Nice work :). Very nice," he wrote in response to the video on Reddit. "I've shared this around.Thx."
The mockup demonstrated how you could easily change the dashboard of your Xbox One console, switching it between various game-related themes, achievement-related themes, and original themes you could personally upload to the console via Microsoft's OneDrive service. The video also demonstrated how you could change the brightness of said themes, as well toggle if you would like the dashboard tiles to be transparent or not.
One of the Xbox One's many UI updates has included a redesigned reputation system. Major Nelson also confirmed that game preloads are currently being considered as option for the Xbox One. While he wouldn't give any further details on whether or not this feature will actually be introduced to the console, he did mention that it might be possible later down the line.
Microsoft has also clarified on the new TV content that'll soon be arriving on the Xbox One, revealing that while the company is refocusing its efforts on making the Xbox One the console of this generation, it also has room to incorporate new content to the console--like its TV line-up. Xbox Entertainment Studios will also be co-producing a new drama for the Xbox One, titled "Humans". TV content for the Xbox One was confirmed back in December, 2013.
[ Eurogamer ]
05/01/2014 08:20PM