No Man's Sky teases plans for "a More Traditional Multiplayer"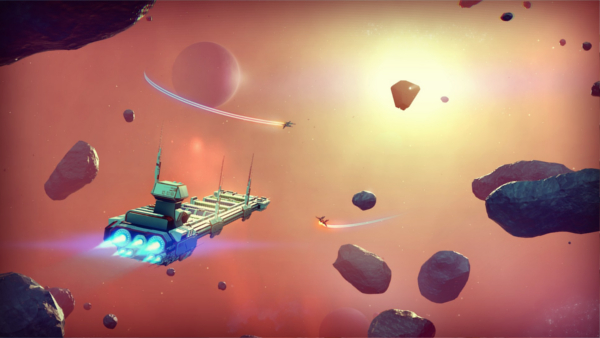 In an interview with GameSpot on Tuesday, July 8, Sean Murray, the founder the Hello Games, developer of No Man's Sky, teased his plans to implement "a more traditional multiplayer" into the sci-fi open universe game.
"A more traditional multiplayer" in the sense of buddying up with your friends and taking on the in-game world together; you won't get much of that in No Man's Sky, it seems.
In No Man's Sky, you start at the outermost edge of the galaxy, and your journey in the game is to try to get to the center. While that's only one thing you may do in No Man's Sky, there's plenty more to do along the way, such as space exploration, combat and collect resources to better improve your chances of success and survival.
Even though you'll probably be hundreds of in-game light years from the nearest player in No Man's Sky, there will assuredly be a lot of NPCs and AI to interact with on your journey to the center of the galaxy.
"You're not going out and seeking [other players] out or whatever," Murray told GameSpot, "but it's lovely to play and just see a little touch of, you know, playing with other people. You and your friends--you know, we're doing the worst possible thing, probably--we're gonna fling you out really far apart."
While teaming up with your friends in the game--let alone finding them--may be a difficult task, but Murray teases that there will be at least one way to do so. However, the team behind No Man's Sky haven't revealed such details yet.
"There is this thing, which I'm not going to talk about now, that is a plan for multiplayer and for people to have a more traditional multiplayer experience within the game, and that's something that we'll deal with down the line that is exciting but that is not what's core to the game right now," he explained.
We've established that No Man's Sky will debut on Sony's PlayStation 4 at a yet-to-be-released date, and Murray is also hoping that the game will release on PC, too.
You can watch GameSpot's full interview with Sean Murray via the source link below. We will bring your more information on No Man's Sky should further details reach our ears.
[ GameSpot ]
07/10/2014 09:24PM