Qualify for Hearthstone World Championship in August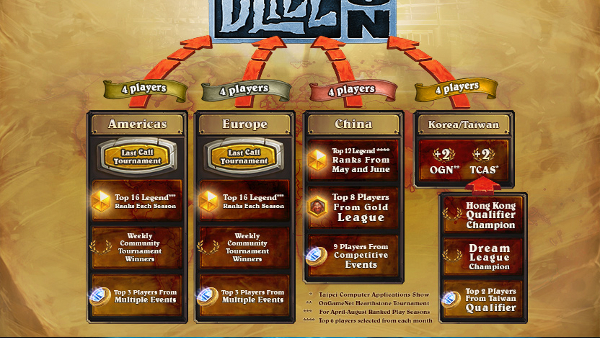 As announced via Battle.net on Thursday, July 31, Blizzard Entertainment has announced that you'll be able to qualify for the upcoming Hearthstone World Championship should you enter an open tournament at a Fireside Gathering.
Friday, August 1 through Sunday, August 3, coming out on top of a local Fireside Gathering tournament will save you a place for the World Championship. Blizzard have listed off instructions on how to qualify for the tournament, which have been detailed below.
Step One: Take the top spot at your local Fireside Gathering Open Tournament to earn your way into your region's online Fireside Pre-Qualifier hosted by ZOTAC.

Step Two: Do well at your Fireside Pre-Qualifier hosted by ZOTAC to earn one of two seeds to compete in the European Qualifier Tournament.

Step Three: Make the top four at the European Qualifier Tournament to earn a spot at the BlizzCon 2014

Hearthstone

World Championship and your shot at the massive $250,000 prize pool!
Blizzard Entertainment unveiled the Hearthstone World Championships back in late April, and the tournament itself will be hosted live at this year's BlizzCon in Anaheim, California.
Starting from Ranked Play Season 1, the best Hearthstone players from around the globe from four different regions--the Americas, Europe, China and Korea / Taiwan--will battle it out for the title of "Hearthstone World Champion", and there will be a qualifying tournament in each region to decide who will be going to compete in the World Championship.
The winning four players from each qualifying tournament will be entered into the final Championship tournament.
The World Championship tournament itself will be in a best-of-five "all-kill" format until one player wins three games, with three deck classes per player for each match. The "all-kill" format means that if you lose a game you must then change the deck you are currently playing.
We'll bring you more Hearthstone-related news should further information reach our ears.
[ Battle.net ]
08/01/2014 08:54PM