"Destiny Planet View" Lets You Explore Game's Locations Google Street View-Style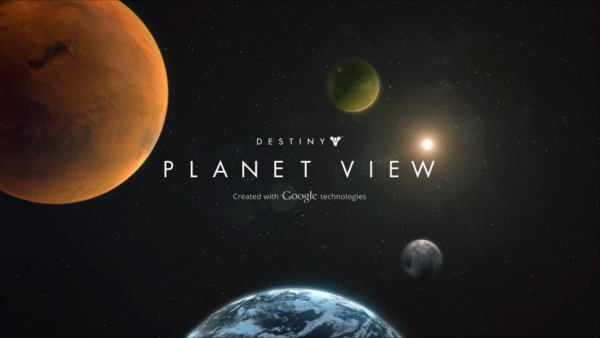 As revealed in a press release published on Tuesday, September 2, an interesting collaboration between Bungie and Google has resulted in a fun little tool called "Destiny Planet View", which allows you to view some locations featured in Destiny like how you would view locations via Google's Street View.
Utilizing Google technologies, Destiny Planet View enables you to virtually walk on the surface of some of Destiny's featured planets, such as Mars. As well as including various tidbits of information about the game, Destiny Planet View also offers a few waypoints for you to find and explore, each rewarding you with additional details about the game and its content.
What's more is that you'll have a narrator and accompanying music to guide you through the tool. You can try out Destiny Planet View via its official website. You can also watch the Destiny Planet View via the embedded video below.
Destiny's first expansion will be available for all platforms in December, which will be a timed exclusive on both the PlayStation 3 and the PlayStation 4, and it'll release on other platforms soon after. You can secure access to Destiny's expansions by pre-ordering the game, which comes with additional goodies to boot.
Destiny is slated to launch worldwide next week on Tuesday, September 9 on PlayStation 4, PlayStation 3, Xbox One and Xbox 360. A PC version of Destiny is currently "a heavy point of discussion." We'll bring you more news on Destiny should further information reach our ears.
[ Press release ]
09/04/2014 02:19AM