Borderlands: The Pre-Sequel Season Pass and DLC Detailed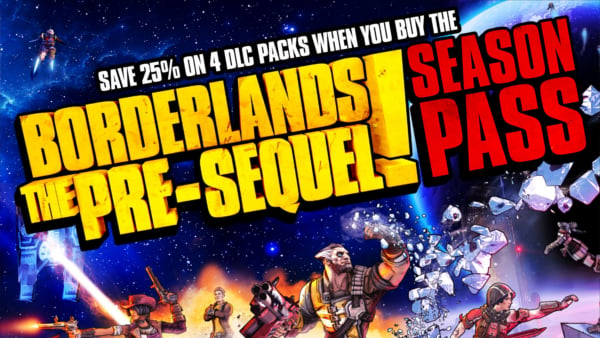 As reported by NerdBite on Sunday, August 31, Gearbox Software revealed during its panel at this year's PAX Prime a Season Pass for the forthcoming Borderlands: The Pre-Sequel, as well as plans for future DLC for the game.
Borderlands: The Pre-Sequel's Season Pass will enable access to all of the game's DLC, which are reported to included new characters, missions, level caps and more. The Season Pass itself is valued at $30 (or your regional equivalent), with each individual DLC costing $10 apiece.
However, the Season Pass will not be included access to the pre-order bonus DLC "Shock Drop Slaughter Pit", though it will be available to purchase separately at some point later on.
As for plans for future DLC, Gearbox Software's president, Randy Pitchford, hinted that having the bodyguard / double of Handsome Jack as a playable character could be a possibility.
Borderlands: The Pre-Sequel is slated to release on Tuesday, October 14 in the US and on Friday, October 17 in Europe for PC, Xbox 360 and PlayStation 3. We'll bring you more more news on Borderlands: The Pre-Sequel should further information reach our ears.
[ NerdBite ]
09/04/2014 03:36AM