Titanfall's "Biggest Update Yet" Adds 4-player Co-op and More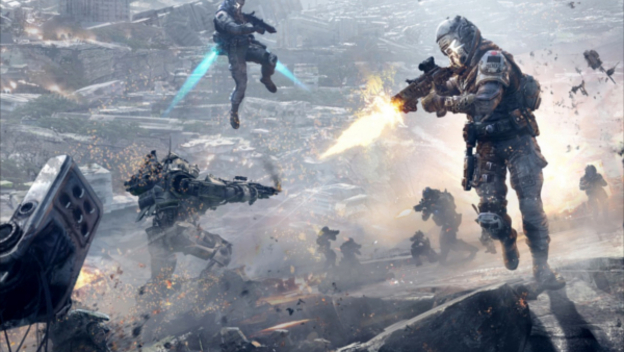 Straight off the bat, the eighth update to Respawn Entertainment's Titanfall has been described as the game's biggest update ever, as proudly announced by the developer itself. Needless to say, a lot of new content will be added to the sci-fi shooter, including a four-player co-op game mode, "Ranked Play" and a hell-of-a-lot more.
This new co-operative game mode, entitled "Frontier Defense", allows for you and up to three others to team up together to "defend a vital objective from increasingly intense waves of AI combatants." Fighting off these hordes enemies, you and your three companions will have to face off the game's newest combat NPCs: stealthy Sniper Spectes, Cloak Drones, explosive Suicide Spectres, Nuclear Titans, Mortar Titans and even Arc Titans.
In this game mode you'll also be able to earn and deploy stationary turrets around the battlefield, and you'll be able to utilize your full Titanfall arsenal by using the game's new Loadout Crates that'll be situated near the objective. These crates will allow you to change your loadout on the fly, whilst also refilling your ammo and ordnance, too.
Instead of randomly spawning anywhere on the map when you die, you'll instead be flown back into the fight via dropship, which will circle the battlefield before touching down. You'll be free to fire your weapons from the dropship before you disembark. What's more is that this co-op mode can be used on all of Titanfall's previous maps, including the ones tied to DLC.
As for "Ranked Play"; you'll soon be able to work your way through an increasingly challenging set of "Tiers" by simply out-performing other players in battle. This game mode can be used with "all standard competitive matches," so you won't have to worry about it being exclusive to a specific kind of game mode or playlist.
In order to obtain appropriate data Respawn Entertainment needs to finalize Ranked Play's details, this feature of Titanfall will first launch in Beta form. The Beta itself will last "at least through October," where thereafter it will then be opened to all players level 32 or higher. A new season of Ranked play will then being on the first day of every month.
Gen 10 players will be eligible to gain access to Ranked Play's Beta access, as a way of Respawn Entertainment appreciating their skill and determination. Gen 10 players who receive access will also be able to invite five others to join in with them, with three more invites added per day.
Respawn Entertainment has acknowledged that it may also expand the eligibility of access for the Beta during this period of time.
You can read the full rundown of Titanfall's eight update via the source link below. We'll bring you more news on the game should further information reach our ears.
[ Titanfall ]
10/23/2014 11:59PM