Design a Titanfall T-shirt and Win a Trip to PAX East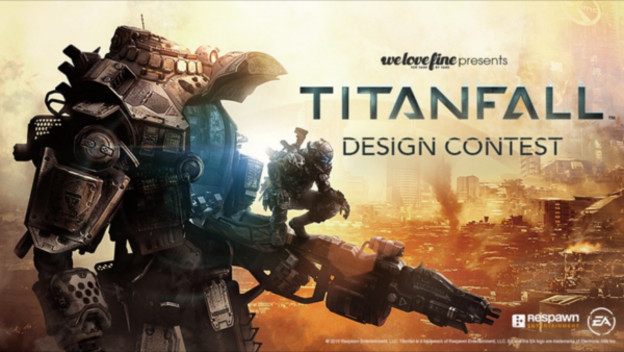 WeLoveFine, an online clothing store geared towards gaming, has announced a new community competition to design a t-shirt. The store has hosted similar contests in the past, but this particular design competition is its first ever one for Respawn Entertainment's Titanfall. Those who design a winning t-shirt in the next 29 days (at the time of writing) will be rewarded with a trip to PAX East.
One Grand Prize Winner will enjoy a pre-paid two-day badge pass and two nights of lodging close to the event's convention center in Boston. If they live in the US, they will also receive a round trip to and from. Winning this prize will also secure a place at PAX Prime in Seattle. A Runner Up will receive $200 in cash and one Hot Topic Pick will receive $300 in cash and have their design sold exclusively in the Hot Topic retail chain. Two Judge Picks winners will receive $400 in cash. The rules of the contest don't specifically say that one winner can only win one title exclusively--one participant could be the Grand Prize Winner and a Judge Pick.
Those entering the content can submit up to five designs per person, and can either used GIF, PNG or JPG image formats only. The image files themselves are recommended to be 15 x 19 inches at 300 dpi. Too small an image won't work on a t-shirt and could compromises the chance to win.
While participants have 29 days to submit their designs, the judges will have 63 days (at the time of writing) to rate them all. Respawn Entertainment's community manager, Abbie Heppe, and renowned games journalist Adam Sessler, along with a representative from Hot Topic, will be judging the t-shirt designs and rating them accordingly. The dos and don'ts of the contest have been detailed below, while further information can be found via the source link below.
Do:

Make something original. Research to make sure your idea isn't already out there.

Make stylized art! Get inspired by Titanfall!

Have fun and be creative!

Don't:

Submit similar versions of the same design. Sometimes people submit the same design, but with small changes. This will only divide your votes and hurt your chances of winning rather than help it.

Use any copyrighted, 3rd party or inappropriate materials. This contest is to submit art designs to be officially licensed. If it is too obscene or mixes 3rd party, or copyrighted materials, it will NOT be approved.

Use any original artwork from Titanfall as a part of your design. All design should be your own creation.
[ Source: WeLoveFine ]
01/21/2015 11:40PM