Divine Intervention At Your Price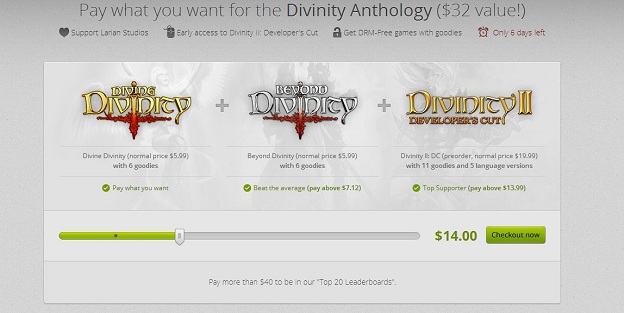 The Divinity series began with Divine Divinity as something of a Diablo clone. An extremely solid action-RPG, it didn't garner tremendous success, but it did put Larian Studios' name out there. Since then, it's seen a pseudo-sequel, in the form of Beyond Divinity, and a direct sequel built on the GameBryo engine (which powered Fallout 3 and its ilk), Divinity II: Ego Draconis. There are also a couple more Divinity games in the works, Divinity: Dragon Commander (a third-person flight/shooter/RTS hybrid spin-off) and Divinity: Original Sin (a very traditional RPG in the main series, but with co-op!).
Leading up to those, though, Larian has decided to release a "Developer's Cut" of Divinity II, which will include an all-new "developer mode" and a collection of goodies that document the process of bringing the game to life.
In light of that, the studio has teamed up with GOG.com for the website's first ever "pay what you want" promotion. Similar to the Humble Indie Bundles, gamers can pay as little as one penny up to whatever they so desire. Those who pay at the lowest tier will receive Divine Divinity. Anyone who beats the average will also gain Beyond Divinity. For "Top Supporters," though, a pre-order of Divinity II: Developer's Cut awaits. What is a top supporter? It seems to sit at about twice the average, currently around fourteen dollars. Considering the game, by itself, is twenty dollars, this more than fair.
10/11/2012 02:45PM