Apple Unveils iPad Mini, Fourth Generation iPad, And More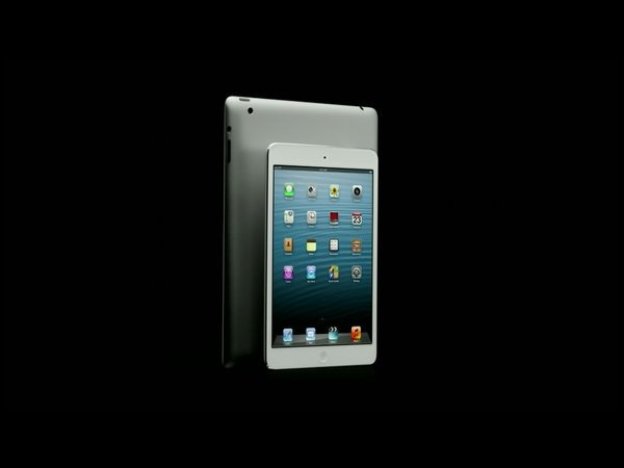 Apple officially showed off the much-anticipated iPad Mini at the company's special event in San Jose today.

SVP of Global Marketing Phil Schiller made the reveal of the new tablet, which measures 7.9 inches (down from the standard iPad's 9.7-inch display), is wrapped up in a 7.2mm-thick aluminum display, and sports a 1024 x 768 resolution.

It comes with a dual-core Apple A5 processor, a 5-megapixel iSight camera, 802.11n dual-band WiFi, optional LTE, the recently-released Lightning connector, a SmartCover, and what's being touted as 10-hour battery life.

In English, it's lighter and thinner than any prior Apple tablet, it's taking aim at Google's Nexus 7 and Amazon's Kindle Fire HD 7-inch tablets, and it's got lots of things that you'll probably not realize you're taking advantage of.
Pricing for the iPad Mini starts at $329 for a 16GB WiFi model, while a 32GB will run you $429, and a 64GB costs $529. If you want that super-fast LTE connectivity, prices for the three models will be marked at $459, $559, and $659, respectively. Pre-orders for the new tablet will begin this Friday, October 26, while the device itself will go on sale the next week, on November 2.

The Mini wasn't the only new iPad announced, though, as Apple also unveiled a fourth generation version of its standard-sized iPad. That one will sport LTE as well, along with 802.11n dual-band WiFi, a 720p Facetime camera, an A6X processor, a reported 10 hours of battery life, and supposedly twice the CPU and graphical power of previous editions.

The 16GB WiFi model for the next iPad will run you $499, while cellular models start at $629.

A new 13-inch MacBook Pro with Retina display and a new, thinner iMac were also announced.

10/23/2012 03:25PM