Skyrim Premium Edition Revealed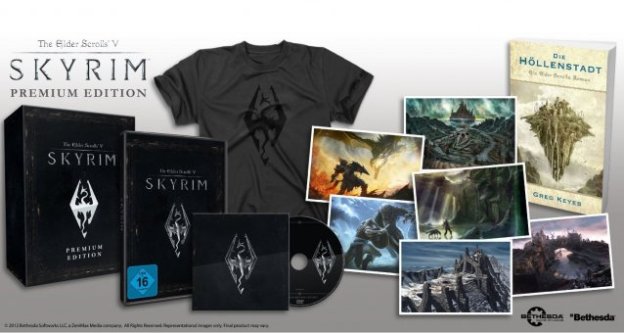 Bethesda has announced The Elder Scrolls V: Skyrim Premium Edition, a special edition re-release of last year's mammoth RPG that will come exclusively to Europe.
The Premium Edition was originally spotted as a listing on Amazon Germany earlier today. If the posting is accurate, the special set will include a t-shirt, a map of the game's world, various concept art, and a copy of the game's spinoff novel, Hell City.
PC buyers of the Premium Edition will apparently receive a bonus disc that comes with special trailers, walkthrough presentations, background material, five songs from the game's soundtrack, and a 600-page eBook as well.
The listing says that the new edition will cost 60 Euros, and will release this December. The listing does not make any mention of the fantasy RPG's downloadable content packs, however.
Bethesda has since confirmed that the Premium Edition will be coming to stores, but did not specify whether or not the contents of the listing are entirely accurate, only saying to Eurogamer that "there will be more details about its availability soon."
10/29/2012 02:15PM