Black Ops 2 May Beat Modern Warfare 3's Day One Sales Record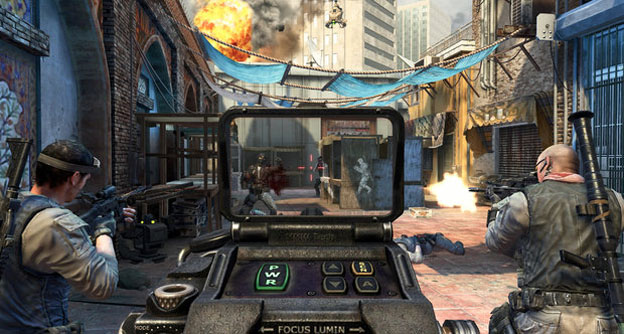 According to Businessweek, Call of Duty: Black Ops 2 might be able to beat the day one sales of Modern Warfare 3 in the U.S. and the U.K. Black Ops 2 has already broken Modern Warfare 3's pre-order records, and is shaping up to be the "biggest game launch of all time" according to GameStop president Tony Bartel. Over one million units of the game were sold at the midnight launch alone.
Analyst Michael Olson estimates that Call of Duty Black Ops 2's day one sales tally lies between 6.5 to 7.2 million in the U.S. and U.K. If this estimate is correct, it will have beaten Modern Warfare 3's records, or at the very worst tied them. Modern Warfare 3 had a more powerful launch than the original Black Ops, but actually sold fewer copies overall. In fact, the massive Black Ops push may be partially due to disappointed Modern Warfare 3 owners looking to recapture the original Black Ops experience. Black Ops' zombie modes, wager matches (including the popular Gun Game match) and a non-linear leveling system were all things that fans missed from Modern Warfare 3.
Maybe Treyarch's latest release can recapture a little of that nostalgia.
Source: Businessweek
11/15/2012 11:25AM