Humble THQ Bundle Rolls Out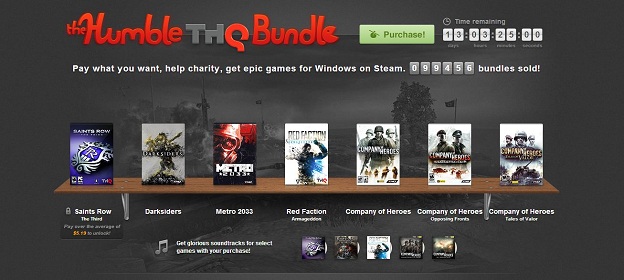 I'm not one hundred percent sure "humble" and "THQ" belong in the same sentence. The publisher isn't exactly a small indie development studio trying to fight its way into the AA market. That said, the Humble Bundle's latest offering is a publisher showcase for one of the more troubled companies in the current gaming landscape and the deals are undeniable.
Using the standard pay-what-you-want model, the Humble THQ Bundle offers buyers the entirety of the original Company of Heroes (including both its expansion packs), Red Faction: Armageddon, the wonderfully atmospheric Metro 2033, and the original Darksiders. Those who are willing to pay enough to beat the average, however, will also gain Saints Row: The Third. Several soundtrack albums are included as well.
The caveat, this time, is that all of these games are available only as Windows versions through Steam. Linux and Mac are not represented and there is no DRM-free option. Further, since this is a Steam-only bundle, there is, for the first time, a one-dollar minimum purchase. These factors have led to some backlash, some journalists questioning whether this befits a delivery device generally intended to provide publicity to independent developers who can't launch multi-million dollar marketing campaigns, but, ethical questions aside, the facts are clear: this is a tremendous deal.
Source: Humble THQ Bundle
11/29/2012 03:25PM