Raptr Offers Magic 2013 Deck Pack Giveaway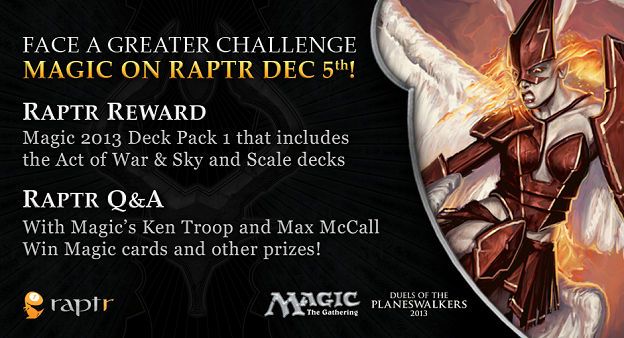 Do you play Magic? The classic Collectible Card Game, Magic: The Gathering, made a fairly smooth transition to the digital space back in 2011 with Magic: The Gathering – Duels of the Planeswalkers. Since then, both 2012 and 2013 editions of the game have been released, hitting the digital download space in 2011 and 2012 respectively.
In chief, it's a means by which to play Magic: The Gathering against players around the world and, as one would expect, has proven a natural fit for DLC, which comes in the form of deck add-ons and even expansions to the main campaign. It also supports a single-player mode that offers a bit more than just context-free matches against the AI.
If you're intrigued and haven't yet jumped in, or have been holding off on picking up the first deck pack, Raptr has you covered. The gaming-centric community is giving away 5,000 codes for the deck packs on December 5, and anyone with a Raptr rank of "Newbie" or higher is eligible. Further, there will be a Q&A session with Ken Troop and Max McCall, during which Raptr users will have the chance to win additional Magic: The Gathering prizes.
For those who might be curious, the deck pack includes both "Act of War," which is a red/white deck focused on slicing through enemy lines to target the opponent directly, and "Sky and Scale," a green/blue deck full of flying creatures, which builds from small beginnings to a tremendous climax.
Source: Press Release
11/30/2012 04:55PM