Ex-LucasArts Employee Says Star Wars: Battlefront 3 Was Mismanaged By Developers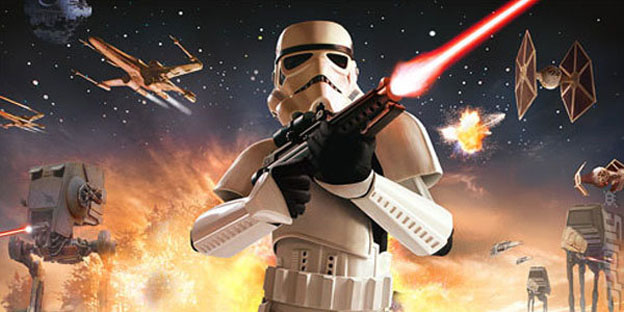 Recently, Steve Ellis, co-founder of Free Radical Design, claimed that Star Wars: Battlefront 3 was about 99 percent done before the project was canceled for financial reasons. However, a former LucasArts employee informed GameSpot that Ellis's story is grossly inaccurate.
This employee, who chose to remain anonymous, said "This 99 percent complete stuff is just bullsh*t… A generous estimate would be 75 percent of a mediocre game."
"I was at LucasArts during this time, working on Battlefront 3, and remember it well. Everybody from producers to marketing was 100 percent invested in making the relationship work," the source said. "We were desperate for a next-gen follow-up to Battlefront (the claim that the project was sabotaged for financial reasons is ludicrous. The [Battlefront] franchise was a huge money maker at the time). When Free Radical continually missed dates and deliveries, [former LucasArts presidents Jim Ward and Darrell Rodriguez] made many 'good will' whole or partial milestone payments to keep the project going."
The source went on to talk about the team's inability to meet deadlines. According to him, Star Wars Battlefront 3 was years past its deadline, setting itself up to become a new Duke Nukem Forever. He then likened Free Radical Design to something akin to a "Ponzi Scheme."
Ellis responded to these remarks saying
"What annoys me about the article is that I personally am accused of a whitewash, which is nonsense. While I don't know everything that my ex-colleagues and staff might have said on the subject, personally I have tried to explain what happened as completely and accurately as possible. I have nothing to gain from a whitewash. I've gone on record saying that we had had difficult times at Free Radical Design. I've admitted that the transition to the latest generation of consoles was more difficult than we anticipated, that we may have made some poor tech choices, and that growing the company to the necessary size for 'next-gen' development wasn't easy. I've said that these things had an impact on the development of Haze and that for this reason - and a number of other reasons - Haze didn't reach the level of quality that we always aimed for at FRD. None of this is new information, so it's a little strange to see it presented as 'here's what these guys aren't telling you, and since I'm telling you this you'll also believe me when I tell you all of this other stuff.'"
Source: Gamespot
12/04/2012 12:55PM