Guitar Hero 7 Canceled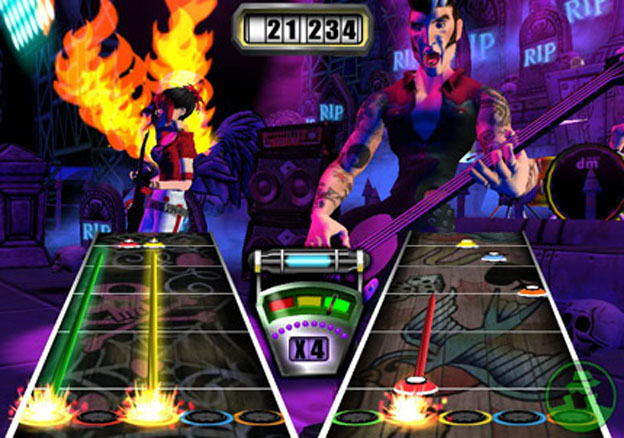 It seems that the age of rhythm gaming is coming to an end. The genre's original title, Guitar Hero, may have finally reached the end of its road. Guitar Hero 7 would have been Vicarious Visions' newest addition to the plastic instrument genre, but the guys over at Kotaku are reporting the game's cancelation. According to Kotaku, the game would have removed the drum and microphone, instead focusing on guitar playing only. It would have also featured a new six-button guitar peripheral. The strum bar, however, would be replaced with six strings, and you would have to strum specific strings (or all of them) at times to more accurately simulate a guitar playing experience.
Unfortunately, there were a couple problems with the new peripheral. The strings were apparently unresponsive and loose, not really feeling like actual guitar strings. Also, the peripherals reportedly cost "a fortune" to make, skyrocketing their retail price far beyond what the average gamer would be willing to pay.
That wasn't the only thing that Vicarious Visions (Guitar Hero 7's new developer after Neversoft passed on the title) had planned for the game. They were going to include dynamic locations that fit with the song you were playing. Each song would have its own music video as well. Unfortunately, their lack of budget meant that they could only afford "bargain basement music like 'Closing Time' and 'Sex and Candy'." Eventually, their set-list got too long for their music video idea to pan out, limiting their venues, and then the cuts just kept coming.
Is this the end for the Guitar Hero franchise? We can't be sure. No official statement has been made regarding the franchises full future. However, this cancelation has to be hurting the franchise badly.
Source: Kotaku
12/06/2012 12:40PM