Metro: Last Light Limited Edition Revealed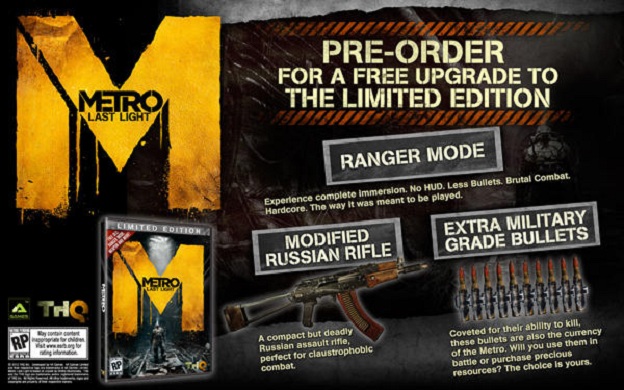 Today, THQ gave us a little more information about Metro: Last Light Limited Edition, a version of the game that will go out to those who pre-order the title or buy it during its initial production run. As with Darksiders II before it, and other signature or limited edition releases, like Red Dead Redemption and Battlefield: Bad Company 2, this version of the game comes at no additional cost, and includes a smattering of attractive bonuses for the salivating fan-base:
Ranger Mode: Returning from Metro 2033, this mode removes the few gameplay buffers that stand between the player and a realistic post-apocalyptic experience. Essentially, it's Metro's hardcore mode.

Ranger Load-out: This load-out allows gives players access to an AKS-74U rifle and a small stash of military grade bullets that are useful for infecting increased damage to the enemy or spending on extra equipment, weapon upgrades, and standard ammunition.
Also, on December 18, PlayStation 3 gamers will be able to pre-order the Limited Edition's digital version through the PlayStation Store. It comes with a free, digital copy of Homefront and a Metro: Last Light PSN theme, downloadable immediately.
Source: Press Release
12/14/2012 04:05PM