Red Dead Revolver, Bully, Midnight Club 3 Available On PSN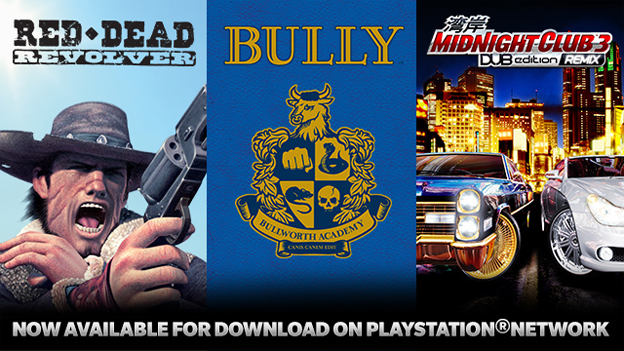 Last week saw the release of Grand Theft Auto: San Andreas on the PlayStation Network and no we'll get the change to dig a little deeper into Rockstar's library of games.
Red Dead Revolver, Bully, and Midnight Club 3 are all now available to download, Rockstar Games announced today. They won't exactly be breaking your bank, either. All three games are available for $9.99 each.
Red Dead Revolver, the original release in the "Red Dead" series for PS2 and Xbox, features the story of Red Harlow, a bounty hunter who attempts to discover the identity of his family's' killers. Bully sees players taking on the role of schoolboy, Jimmy Hopkins, as he roams the hallways of the Bullworth Academy. Hopkins uses bullish behavior to take on various classmates as he stands up for what's right. Finally, there's Midnight Club 3: Dub Edition Remix, the third entry in Rockstar's racing franchise featuring a full Remix update.
Rockstar also mentioned that Grand Theft Auto: Vice City is still coming to the PSN. They're working on its release, as well as a few other PS2 classics, soon. Maybe some Smugger's Run?
12/19/2012 03:00PM