Star Trek Game Out In Time For Into Darkness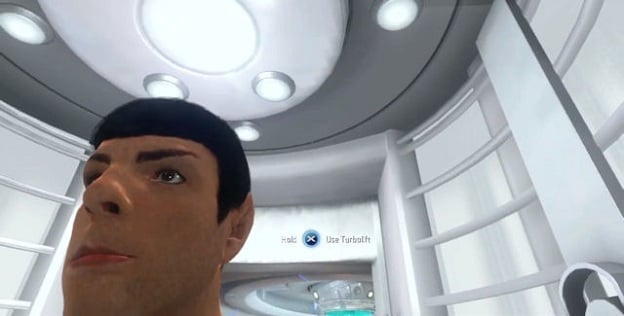 The game based on J. J. Abrams' alternate-reality Star Trek universe has long since missed the window for a licensed tie-in of the 2009 movie. Most, though, would tell you that this is a good thing, since it means that the title is set in Abrams' universe, it will neither be beholden to the movie's plot nor rushed out the door to meet an arbitrary deadline.
Instead, it appears that NAMCO Bandai has taken the long road, as the game is now slated for release on April 23, 2013. That's just under a month before the second Star Trek movie, Into Darkness, is scheduled to hit theaters. Well played, NAMCO Bandai.
In addition to the date, NAMCO Bandai revealed that those who pre-order the game will also receive the Elite Officer Pack, which includes alternate uniforms and weapons for Kirk and Spock:
Stealth Pack – Kirk and Spock stealth uniforms, plus Starfleet Type IV Stealth Sniper Rifle and extra ammo
Brawler Pack – Kirk leather jacket costume and Spock Vulcan Science Academy costume
Kelvin Pack – Kirk and Spock U.S.S. Kelvin uniforms, plus U.S.S. Kelvin Hand Phaser
Academy Pack – Kirk Academy Uniform, Spock Officer Dress Uniform, plus Academy Phaser
Kobayashi Maru Pack – Kirk and Spock Kobayashi Maru uniforms
Star Trek will be coming to the PlayStation 3, Xbox 360 and PC.
Source: Press Release
12/20/2012 03:20PM