Borderlands Sale On Xbox LIVE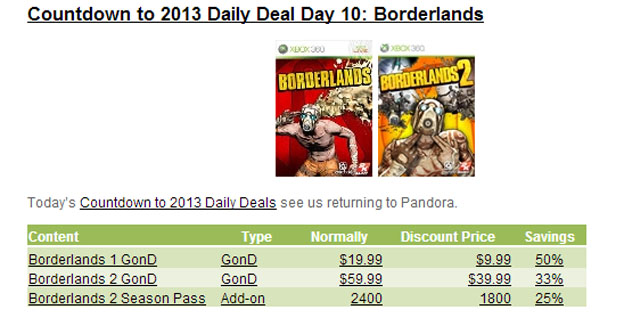 In the last few days of 2012, Xbox LIVE is offering some pretty hefty deals. Today's deal is Borderlands and Borderlands 2. You can get both games on demand for a severely reduced price. Borderlands is going for a scant ten dollars, down from its original twenty dollar price point. Borderlands 2, on the other hand, is going for forty dollars, a discount of twenty dollars. The Borderlands 2 Season Pass is also down to 1600 Microsoft points from its original 2400.
Borderlands 2 is one of the best multiplayer games of the year, so definitely check it out if you haven't yet. Might as well pick up the season pass as well, because the Mechromancer is an incredibly fun class to play, and the new DLC missions are pretty great as well.
Source: Major Nelson
12/27/2012 12:55PM