Dead Rising 3 Coming To Next Gen Consoles?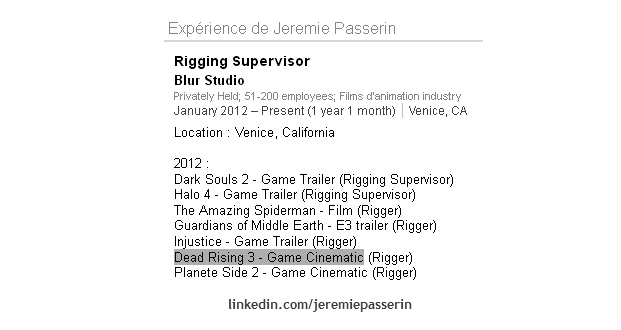 Someday, people will learn that the Internet sees all. This isn't the first time an unannounced game has been exposed on LinkedIn and it probably won't be the last.
While the profile for Jeremie Passerin may have been updated, All Games Beta was able to take a snapshot that indicated he's worked on a game called Dead Rising 3.
Funny, because it hasn't been announced.
For what it's worth, his company, Blur Studio, has experience working with cinematics for Guardians of Middle-Earth, PlanetSide 2, and Injustice, among others. All three of those games are featured on their homepage. Would it be a real surprise if Capcom hired them to work on cinematics for Dead Rising 3? Not at all. Would it also be a shocker if Dead Rising 3 were a launch title for a new console? Nope. Putting countless zombies on a screen at once would be an excellent way to show off the power of the next Xbox and PlayStation consoles.
We'll find out later in the year whether or not Dead Rising 3 exists, but I have a hunch that it does.
01/07/2013 02:45PM