Xi3 Reveals Steam Based PC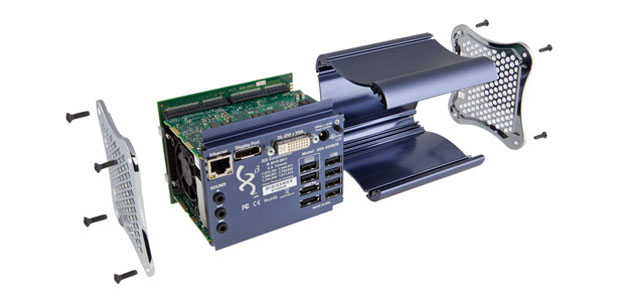 Is this the Valve console we have all been hoping for? Xi3, a development company who specializes in PC hardware, has recently revealed a brand new computer system that's being shown off at CES this week. The system is specifically designed to support Steam and Steam's big picture mode on home TV. It's small, able to fit in the palm of your hand, but it has numerous outputs (including several USB, HDMI, and even a DVI port).
The computer is based on the X7A Modular Computer that Xi3 tried to Kickstart last year. They originally described it as a "power user and gaming level machine" but failed to reach their goal of 250,000 dollars by a significant amount ($160,000 specifically). Here is what their old Kickstarter had to say about the machine's specs.
As we envision our new X7A Modular Computer, we see it powered by a new Quad-Core 64-bit, x86-based processor running at up to 3.2GHz, integrated with up to 384 graphics shader cores, and 8GB of DDR3 RAM, and able to handle graphics-rich computer games like Crysis 2 with ease. The X7A Modular Computer will also run 3 high-definition monitors simultaneously, has four USB 3.0/2.0 ports, four eSATAp ports, four USB 2.0 ports, a 10/100/1000 Ethernet port, and up to 1TB of super fast solid-state storage inside the chassis, making it perfect for gamers and power users alike. And yet the X7A Modular Computer will be housed in a chassis about the size of a softball (4.27x3.65x3.65-inches) and run on a mere 40Watts of electricity or less. We expect the X7A Modular Computer to begin shipping in early 2013 with a price starting at under $1,000. All within a chassis you can hold in the palm of your hand!
Valve has invested in the company, and while no official partnership has been announced, the fact that Xi3's computer is available to try out at the Valve booth at CES certainly says something. Supposedly, this new tiny box will be able to deliver graphics and performance that outdoes all of the leading game consoles, while still fitting in the palm of your hand.
Sources: Joystiq, Kickstarter, Engadget, Polygon
01/08/2013 11:40AM