Injustice: Gods Among Us Collector's Editions Detailed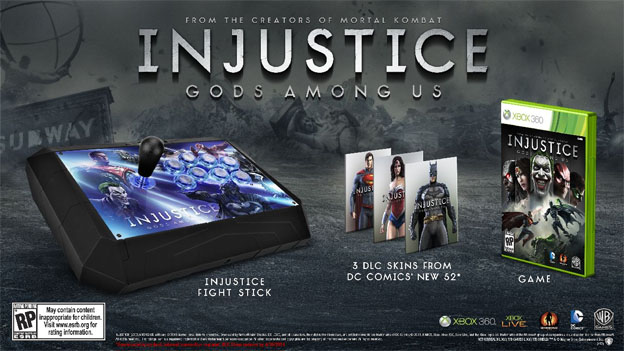 We first heard about Injustice: Gods Among Us, the DC crossover fighting game by Netherrealm Studios, last year. Now, it appears as if we are getting closer and closer to the release, as bundles for the game have started appearing.
The Injustice: Gods Among Us Battle edition will retail for $149.99 and will include a game disk and three exclusive costumes for Batman, Superman, and Wonder Woman (based on their character designs from The New 52). The package will also include a fight stick, which is "a lightweight controller that boasts a non-skid foam underside, a lockout feature for the Start, Select and Guide buttons, as well as adjustable illumination for the buttons and joystick."
Don't get the battle edition confused with the Collector's Edition, though. The Collector's Edition will retail for $99.99 and will include a special Injustice: God's Among Us comic book; a Collectible statue featuring Batman, Wonder Woman, and The Fortress of Solitude; a complimentary download of Justice League: Doom, an animated film, and the aforementioned costumes based on The New 52.
The battle edition will be available for purchase on April 16th.
Source: Press Release
01/15/2013 12:00PM