Dead Island: Riptide Zombie Bait Edition Announced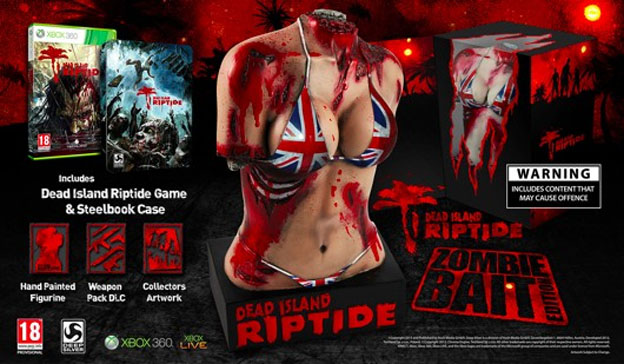 Its official, Dead Island takes home the award for weirdest video game bundle ever. Deep Silver and Techland have just announced the Dead Island: Riptide - Zombie Bait Edition bundle. The bundle includes the game, of course, a steelbook case, weapon pack DLC, and collectible artwork cards, which all seem normal for a videogame bundle. But then, there's the figurine that it comes with. It's small statue of a woman's torso, in the style of ancient Roman marble sculptures. Except, unlike roman busts which focused on a woman's midsection due to an artistic love of the female form, this torso has no arms and legs because they have been eaten by zombies.
Yes, the Dead Island: Riptide Zombie Bait Edition comes with a bloody dismembered torso of a woman wearing a flag patterned bikini, complete with bones sticking out of the neck stump.
The Zombie Bait edition of the game will be printed in extremely limited quantities making this bloody torso an actual collector's item. For now, it has only been announced in the UK. I'll actually be ok if this one doesn't get to our shores.
Source: Press Release
01/15/2013 12:45PM