PS Vita Has Hard 100 App Limit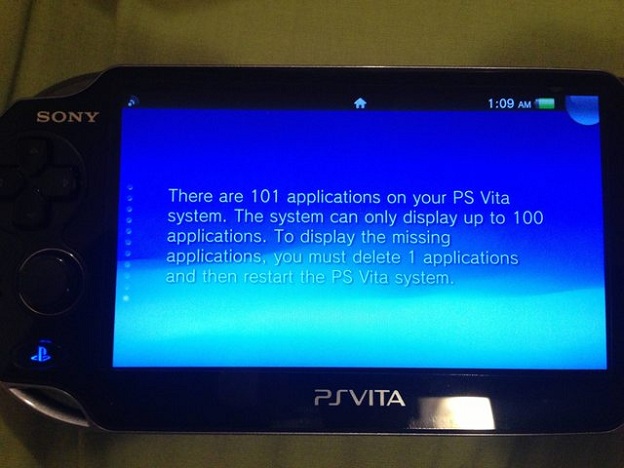 During the holiday season, a sale from Sony sparked many Vita owners to pick up a 32GB memory card. If Sony's insistence on proprietary and expensive flash memory solutions seemed absurd before, though, it has now graduated to offensive. It turns out that there is a hard limit on how many applications the Vita can display, regardless of how much space is available on your memory card.
NeoGAF member Shagg_187 posted a picture of an error message from his Vita, indicating that he had 101 applications and, as such, those above the hundredth would not be displayed. Its suggested solution? Delete an application and restart the system. Shagg_187 still has 9GB left on his card.
This is a tremendous OS oversight, especially given that the Vita saddles you with 20 mandatory apps right from the get-go. I don't know if it's a technical hurdle or simply a matter of Sony attempting to avoid UI clutter, but the latter would certainly have been better handled by allowing application grouping. Either way, it means that the 32GB card is potentially less economical than getting a pair of lower-capacity counterparts, since the basic convenience of such a high-capacity card comes from its ability to consolidate one's library.
Source: NeoGAF
01/17/2013 03:25PM