The Last Of Us Special Editions Announced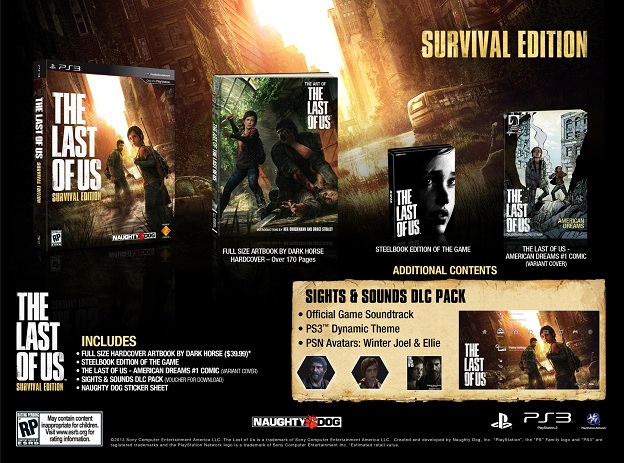 New proof that Sony loves Europe: revealed today, The Last of Us will receive not one, but two special editions in Europe, and both of the packages have been themed after the game's two primary protagonists. The Ellie Edition, exclusive to GAME, and the Joel Edition, available at Tesco and independent retailers, will contain similar goodies, but some of the items, as well as the external packaging, will reflect the associated character:
The Last of Us Mini Artbook
The Last of Us: American Dreams Issue #1 (which provides backstory on Ellie)
Collectable Poster: Joel or Ellie depending
Controller Skin: Also Joel or Ellie themed
Survival DLC Pack: Provides multiplayer bonuses and extra skins for Joel and Ellie after single-player has been finished
Sights & Sounds DLC Pack (also included in pre-orders of the standard edition)
Soundtrack by Gustavo Santaolalla
PS3 Dynamic Theme
PSN Avatars: Winter Joel & Ellie
LittleBigPlanet Sackboy Skins: Differ depending on the special edition chosen
While these editions of the game are exclusive to Europe, the PlayStation Blog has unveiled a Survival Edition of the game listed at $79.99. It specifically mentions a full-size, hardcover art book, steelbook packaging, and Naughty Dog stickers, along with the comic from the European edition (though it mentions a variant cover). Plus, it includes the Sights & Sounds DLC. There will also be a Post-Pandemic Edition, which retails for $159.99 and is GameStop exclusive, replacing the art book with a 12-inch statue of Joel and Ellie and the Survival DLC from the European special editions.
Unless art is your thing (and the art of The Last of Us is certainly enthralling), or you're gaga for statues, it sounds like Europe is getting the better end of the deal this time out.
Source: Press Release/PlayStation Blog
01/22/2013 03:20PM