Miiverse Gets Tons Of New Functionality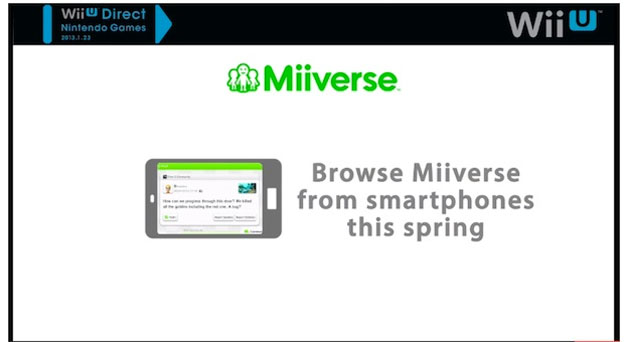 Nintendo is really pushing its Miiverse, the new social network for Wii U users. More than just a new Mii channel, Miiverse allows Wii U users to send messages back and forth to each other and see what games their friends are playing. However, this morning's Wii U Direct has revealed some new Miiverse functionality that will change the way gamers interact with the Wii U social network.
First of all, Miiverse will now be accessible via your smartphone. Nintendo President Satoru Iwata said that a web-based app will be dropping sometime soon, which means, of course, that you can also access the Miiverse from any computer as well. Iwata also said that dedicated apps will be launched at a later date.
Iwata also showed off some in-game functionality for Miiverse. For example, Pikmin 3 allows you to take in-game snapshots and send them to all of your friends. Wii Fit U allows you to share your goals and stats and compare your fitness progress with friends. Each individual game will have its own unique Miiverse functionality. Hopefully we will eventually get some Miiverse compatibility for New Super Mario Bros. U which will allow us to compare speedruns.
Source: Destructoid
01/23/2013 12:30PM