RUMOR: Beyond Good & Evil 2 Has A Release Date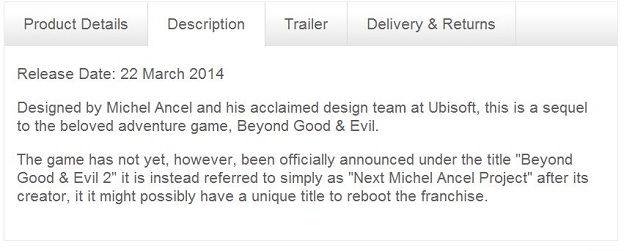 Beyond Good & Evil 2 has become one of the most consistent sources for rumor and fan speculation of this console generation. Revealed to exist, if only in concept, there has been very little evidence of the title's continued development. Though, Ubisoft insists that it has not been cancelled (It has much in common with The Last Guardian, in this respect).
Now a European retailer, Zavvi, has a listing for the title in its gaming store. The title is listed for the PS3 and Xbox 360 at 50 pounds and PC for 30, with a description that states plainly:
The game has not yet, however, been officially announced under the title "Beyond Good & Evil 2" it is instead referred to simply as "Next Michel Ancel Project."
More interesting, the listing indicates that the game is scheduled for a March 22, 2014 release. Could Zavvi have inside information of which other retailers are unaware? Most likely not, but it is the first date we've seen for BG&E2, and it is oddly specific.
Source: Zavvi.com
Thanks to Aarron Ewart for the tip.
02/05/2013 12:15PM