Ghost Recon Online Celebrates King Washington's Tyranny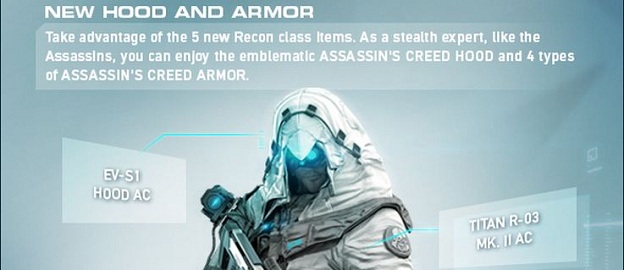 Assassin's Creed III is getting its first DLC pack next week in the form of The Infamy of King Washington, the first chapter in the three-part The Tyranny of King Washington DLC. In celebration, another Ubisoft franchise is getting into the Assassin spirit; starting today, players of Ghost Recon Online are able to purchase new, Assassin's Creed-themed items for use in game.
There are five new Recon Class apparel items, consisting of the hallmark Assassin's hood and four different body armor variants inspired by Assassin's Creed. In the realm of weapons, Abstergo Industries is contributing six of its own specialized firearms: the F2000 SP AC, Fiveseven AC, MG36 KV AC, P90 C AC, Sentinel SR-1 AC, and the Pentagun SP AC.
Those who purchase everything together as a bundle will receive a 15% discount on the price along with an exclusive avatar. Players have until March 1 to buy them, either with Requisition Points or Ghost Coins.
Source: New Gamer Nation
02/11/2013 06:25PM