Ubisoft Reveals Next Assassin's Creed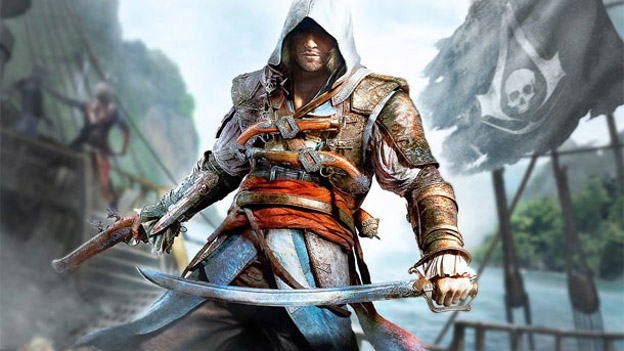 For a while now, we have been hearing rumors about Assassin's Creed IV. Supposedly, the story is themed around pirates. Kotaku was the first to start spreading the news after they got their hands on an Assassin's Creed IV poster. Instead of trying to vehemently deny the rumors, Ubisoft decided to take the high road by officially confirming Assassin's Creed IV: Black Flag.
Sure enough, Black Flag will take place on the high seas, where real men sail ships and drink rum. Of course, this means that the series will be abandoning the colonial setting of Assassin's Creed III, which is peculiar considering how long they spent in the renaissance with Ezio.
The official art that Ubisoft revealed shows a main character standing on a ship over a dead body. He is holding a pistol in one hand, a cutlass in another, and he has pistols strapped to his chest and back. He also has a dagger hidden underneath his right arm, an iconic assassin's blade it seems, originally popularized by Altair.
Exact details on the story and gameplay of Assassin's Creed IV are still being kept under wraps. However, we are almost guaranteed to see more of the naval combat which first debuted in Assassin's Creed III.
Source: GameInformer
02/28/2013 11:50AM