Assassin's Creed IV: Black Flag Release Date Leaked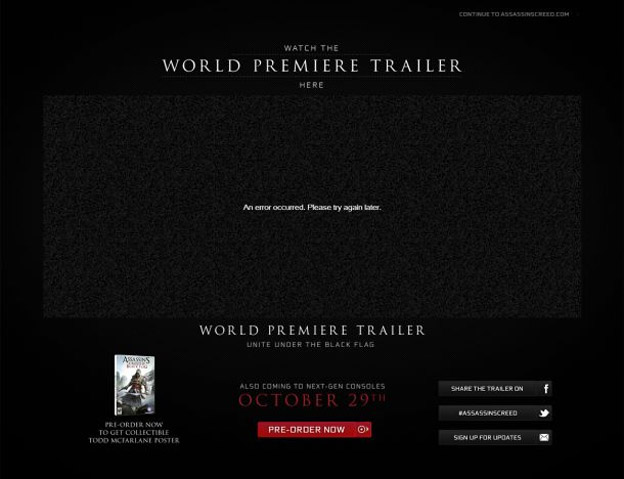 Assassin's Creed IV: Black Flag has been the only game that people want to talk about over the past few days. First, the rumors, than Ubisoft's confirmation, and now a supposed leak for the game's release date coming from Ubisoft itself.
A page was uploaded to the official Assassin's Creed IV website that offered people a chance to "watch the world premiere trailer." The trailer wasn't actually available. However, text below the trailer said that the game would "also be coming to next gen consoles October 29th." This gives us two tasty bits of information; it tells us that Assassin's Creed 4 will be out by the end of the year, and it tells us that the next generation of consoles will be available by October 29th!
The page has since been taken down and Ubisoft has not yet commented on it. Take all of this info with a grain of salt, though. Even though the website itself was confirmed, the date might have been a placeholder--an oddly specific placeholder, but still a placeholder. In addition, it may have only been an estimate of when the game, and next generation consoles, would be available. Below the date was a pre-order button, and we have all experienced games being delayed even after we pre-order them.
Source: IGN
03/01/2013 11:20AM