Skullgirls Indiegogo Closes. Tons Of New Content Coming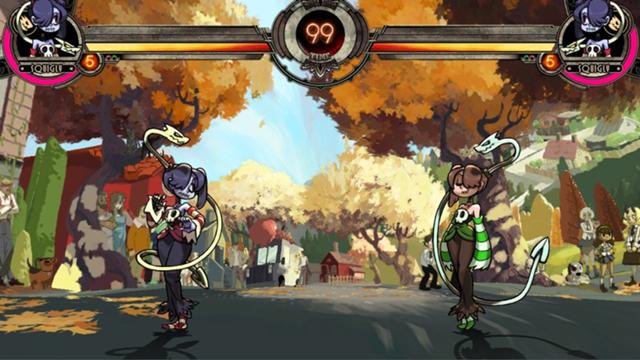 The Indiegogo campaign for Skullgirls, the struggling indie fighting game, has closed higher than anyone expected it to. The fundraiser has raised nearly 830,000 dollars. The original goal was 150,000 dollars and the team only had stretch goals originally up to $625,000. It took the entire development team by surprise. Here was lead designer Mike Z's reaction to the drive.
So what will all this money buy? First of all, the game is getting five new characters, Squiggly: Big-Band, Robo-Fortune, and two other characters that the community will vote on from the "mysterious character list." Six new stages will be made, four for each character except the second from the mystery character list, and two to host the special guest NPCs made for donators who contributed 1,000 dollars or more. Each of these stages will come with a brand new track from Michiru Yamane, famous for scoring the Castlevania titles, and the four characters who do manage to get stages will also have a fully fleshed out story mode.
In addition to all this new content, the game will also be getting yet another patch that will tweak character balance and add a few new features. Mike Z has been testing an "undizzy" system that would make combos slightly shorter as a compliment to the IPS. Online lobbies and spectator modes are planed additions to the PC port of the game and will be backported to consoles once they are implemented. Online training mode is also something that is being worked on. The game will also be ported to Linux and will also be brought to Mac platforms provided that they the team find a Mac coder. All of this content will be made available on the PC version first in the form of open beta tests.
Finally, Mane6, the developers behind Fighting Is Magic (the former My Little Pony fighting game) will be given the Z engine (Skullgirls' engine) for free. Mike Z, lead developer of Skullgirls, struck a deal with Man6 to give them the engine should they reach $725,000.
The best part about all of this? All of this content is totally free. For the first three months after any of this new content releases, anyone with a copy of Skullgirls will be able to purchase it for free and keep it for free forever. The content will then go on sale after the three month period is up, only for people who missed its initial release.
Source: Indiegogo
03/28/2013 12:55PM