PlayStation Plus April Updates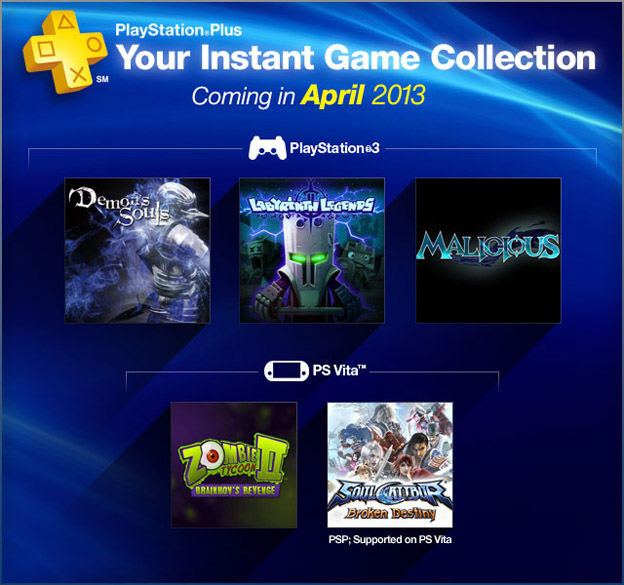 Sony is rolling out a new series of PSN updates, which means a new set of PlayStation Plus titles are about to become freely available. Unfortunately, Spec Ops: The Line, Street Fighter: IV Arcade Edition, and Anomaly: Warzone Earth, will be leaving, but a whole lot of other games will be taking their place.
The biggest perk for PlayStation Plus members has to be Demon's Souls, an ultra-hard RPG that has probably ruined many people's lives. Joining it, though, is Malicious and Labyrinth Legends.
The PS Vita will be getting a brand new title called Zombie Tycoon 2 on April 30th, but PS3 users shouldn't feel left out, because they're also getting a copy of the game. SoulCalibur: Broken Destiny, a PSP title, will also be available on PS Plus and is fully compatible with the PS Vita.
Spec Ops will be departing on April 2nd, Street Fighter will leave April 9th, and Anomaly will leave April 16th. Unfortunately, all titles except for Zombie Tycoon 2 do not yet have an availability date.
Source: U.S. PlayStation Blog
04/02/2013 04:15PM