Darkstalkers Resurrection "Not A Success"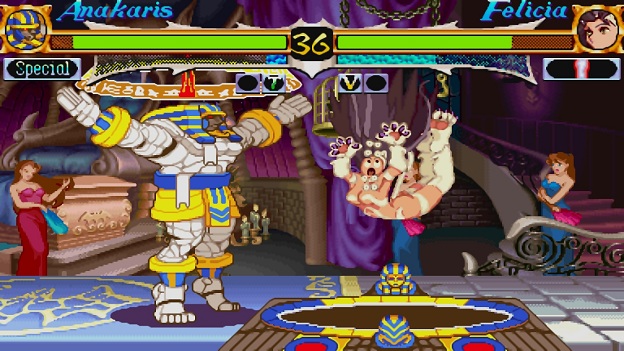 Darkstalkers Resurrection, the latest Capcom fighter to get an HD overhaul, not only provided enhanced visuals, but strung together Night Warriors: Darkstalkers' Revenge and Darkstalkers 3 into one glorious, downloadable title. It's one of the fan-friendliest things the company has done lately, and the title seemed to be on track to succeed, cracking the PSN top ten in the month of its release.
But Capcom has since said that they won't be doing such enhancement projects anymore, because interest has waned. Christian Svensson, the face of Capcom to those who frequent Capcom Unity, ties this to a drop in sales for the title compared to remakes past.
Cracking the top ten was, apparently, not enough. Such is the world of business, where simply selling well relative to one's competition isn't good enough: a product must also soundly trounce its predecessors to stand a chance, and Darkstalkers Resurrection apparently didn't. Svensson was candid and apologetic while explaining Capcom's reasoning, as he is known to be, which softens the blow. Business is business, unfortunately.
Source: Eurogamer
04/11/2013 01:05PM