Resident Evil: Revelations Has Tiered Steam Pre-Order Bonuses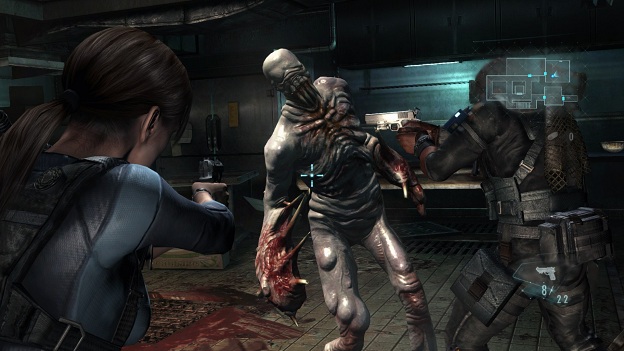 Resident Evil: Revelations was the first Resident Evil game in a while that made fans of the series sit up and take notice. Rather than focus on the action-heavy hijinks of Resident Evil 5, or those later seen in Resident Evil 6, Revelations served as a return to the slower-paced, ammo-conservation-based horror of days gone by. It still built on the responsive, over-the-shoulder controls of Resident Evil 4, but it slowed the pace, provided more claustrophobic environments, and amped up the tension over recent main-series titles.
It was almost a crime that it was only released on the 3DS. Now, though, it's coming to everything else. The Wii U, the PlayStation 3, and the Xbox 360 are all receiving versions of the game, all with higher definition graphics. The PC, too, is getting a version of it—the Steam page already up and talking of pre-order rewards. It's making use of Steam's popular tiered pre-order system, with the art book and soundtrack already unlocked. The next tier includes a free copy of Lost Planet: Extreme Conditions, while the final tier will offer players the Resident Evil: Revelations season pass free of charge, promising "4 pieces of additional content."
Resident Evil: Revelations will hit the PC, PS3, X360, and Wii U on Tuesday, May 21.
Source: Steam
04/11/2013 01:10PM