Nintendo's Cavalcade Of Portable Zelda Goodness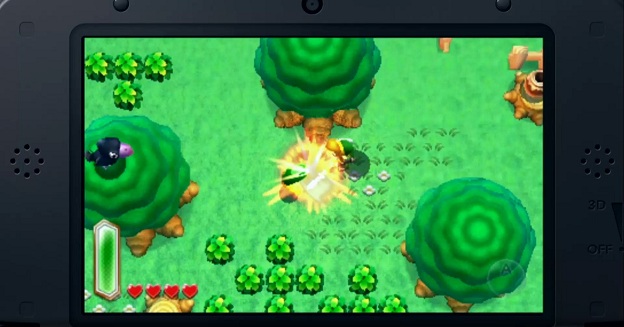 Today's Nintendo Direct event closed with what was probably the most anticipated announcement of any of their conferences thus far: a new, original Zelda title for the 3DS. So far the game is untitled, but it's reportedly set in the same world as A Link to the Past, perhaps the most iconic of the classic Zelda games. Footage of the game shows that the visuals will be rendered in 3D, though the gameplay is in the top-down style of the original A Link to the Past. That said, the game takes advantage of the system's 3D properties to include vertical space in its puzzles, and introduces a mechanic in which Link becomes a painting on dungeon walls, allowing for tricky maneuvering and a change in perspective. The game is currently slated for a holiday 2013 release.
Meanwhile, for those who can't wait that long to get their Zelda on, Nintendo is bringing the Capcom-developed Oracle of Ages and Oracle of Seasons to the 3DS eShop's Virtual Console. They will possess all of the features present in their original, GameBoy Color incarnations, including the ability to unlock special items and a new final confrontation by playing both. They will be out on May 30.
Source: Nintendo Direct
04/17/2013 03:40PM