Marvel At Deadpool's Pre-Order Goodies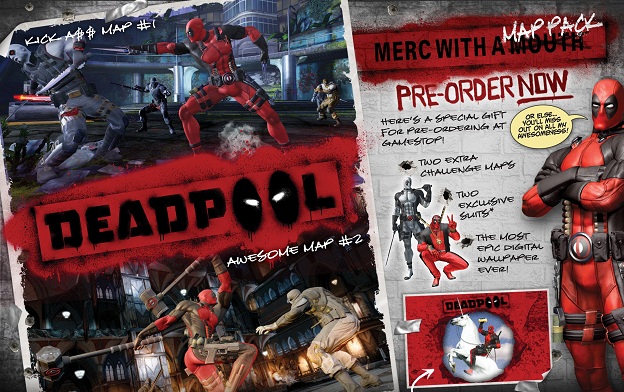 In preparation for the upcoming Deadpool game's release, the Merc with a Mouth has detailed the bonuses players who pre-order his adventure can expect to receive. At least, what they can receive if they pre-order from either GameStop/EBGames or Amazon.
GameStop/EBGames customers will get the bundle called the Merc with a Map Pack, which adds two maps to the Deadpool Challenge mode ("GRT Plaza" and "Inside the Tower") and a couple of new costumes: D-Pooly and Uncanny X-Force. The costumes are available only in an unlockable "Infinite mode." PowerUp Rewards customers will also receive a digital wallpaper. The most unusual bonus, though, goes to the GameStop location that unloads the most pre-orders: a midnight launch party hosted by Activision, with Deadpool himself in attendance.
Amazon purchasers, meanwhile, will receive a $5 credit toward "select Marvel graphic novels" and both a digital wallpaper and a digital coversleeve.
It feels like Amazong is getting the short end of the stick.
Deadpool will be out on the Xbox 360, PlayStation 3, and PC on June 25. The Xbox 360 and PS3 versions will cost $49.99 MSRP, while the PC version retails at $39.99.
Source: Marvel
04/18/2013 12:55PM