Saints Row IV Goes Full 'Murrican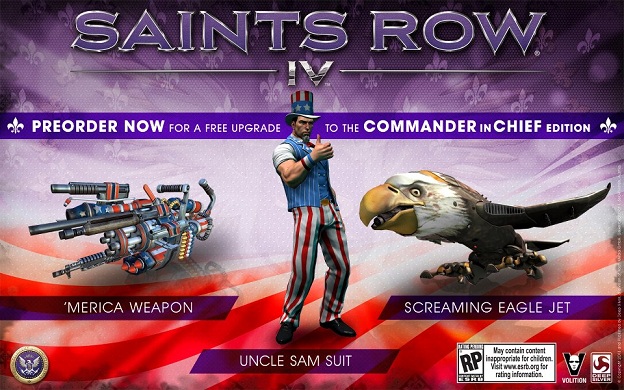 With Saints Row IV promising utter ridiculousness already, it's only fitting that a special edition of the game, with a collection of over-the-top goodies, be announced for those who pre-order the title. Dubbed the Commander In Chief edition, the special edition will be an automatic upgrade for all who pre-order the base title.
Included within, in addition to Saints Row IV itself, is an Uncle Sam suit to wear, a Screaming Eagle Jet to fly, and the 'Merica Weapon, which seems to be an amalgam of a minigun, assault rifle, various shotguns, and a rocket launcher. This patriotic smorgasbord fits with the whacky and surreal nature of the Saints Row series, which appears to have lost none of its charm since having departed from THQ.
The Commander in Chief edition of the game will cost the exact same as the standard version, the upgrade only requiring that one pre-order the title. Get on that. For 'Murrica.
Source: Facebook
04/23/2013 12:55PM