The Dark World Returns In Link To The Past Sequel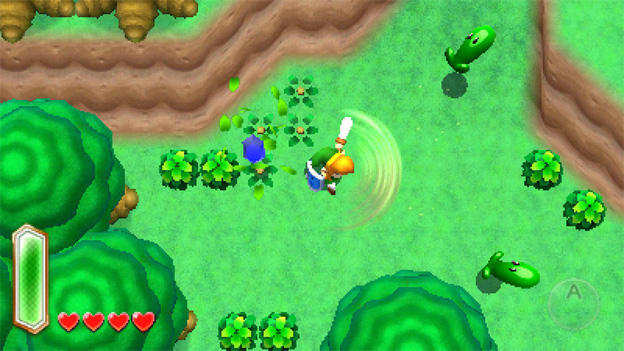 It's somewhat bizarre that we are getting a Nintendo 3DS sequel to the classic Super Nintendo title, The Legend of Zelda: A Link to the Past. Still, Nintendo is doing their best to stay true to the original on a handheld that is far more powerful than the system that A Link to the Past debuted on.
The Light and Dark Worlds that A Link to the Past is known for will be returning in the 3DS title. Nintendo hasn't yet elaborated on what's behind the return, but you can probably assume that Gannon has something to do with it.
Link will also be gaining some new abilities. For example, he will be able to flatten himself into a 2D image and travel along walls, Paper Mario style. This will obviously be used to traverse areas that normally wouldn't be available in three dimensions and, according to producer Eiji Aonuma, will open up new opportunities for puzzle solving. It's feels like a throwback to the caves and hidden areas in the original Legend of Zelda that shifted into a 2D perspective.
According to Aonuma, A Link to the Past will be changing up the way items are collected in this new Zelda game, which, seems a bit odd. The Zelda formula is pretty standard:
Find new item.
Use new item to traverse dungeon.
So forth.
Perhaps they are developing an RPG-style system like The Legend of Zelda 2.
We will bring you more information on The Legend of Zelda: A Link to the Past 2 as it becomes available.
Source: Polygon
05/02/2013 12:10PM