Amusement Park DLC Coming To SimCity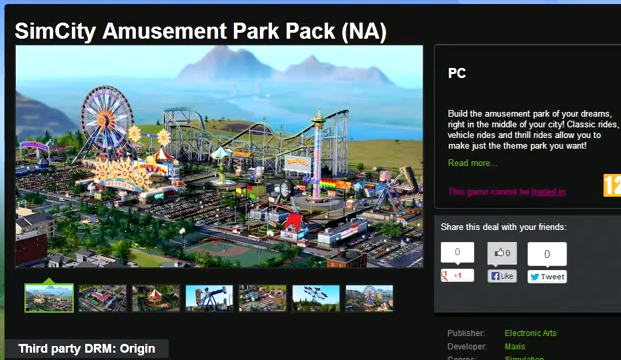 As Maxis works to fix SimCity's issues, they're also working on creating new gameplay content. The game's first official DLC will be an amusement park pack, set for release on May 28th. It will cost $9.99.
A posting was originally made on Green Man Gaming, but has since been taking down. But this is the internet, and you're never able to fully remove things from the internet. Hypnotoad Productions was able to snag a screenshot in a video uploaded today as he talked about the game's upcoming DLC.
He brings up a pretty big issue about the DLC: the amusement parks appear to be absolutely gigantic and may even cover a large portion of the already small city maps. I guess Maxis and EA are going attempting to make most of the city be specialized for an amusement park, similar to Sandusky, Ohio and Cedar Point.
Still, it's pretty surprising to see EA charge this much for DLC when the game's had its fair share of problems.
The SimCity Facebook page said that we'll be amused by upcoming DLC, but nothing has been officially confirmed.
Source: Youtube.com
05/16/2013 05:20PM