The Ouya Team Occupies E3--Gets Cops Called On Them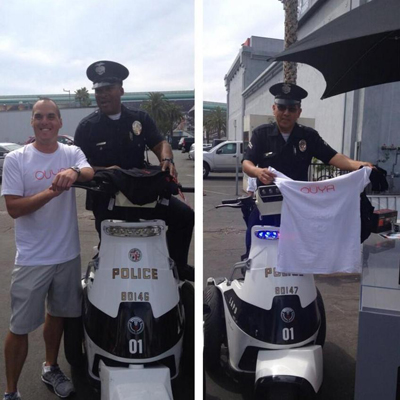 The folks behind Ouya embrace their outsider status. Instead of attending E3, the makers behind the rebel console decided to set up a booth across the street from the Electronic Arts Expo. This move provoked ESA, the company behind E3, and the antagonism culminated today when someone called the cops on the Ouya booth.
The officers left the booth satisfied that no illegal activities occurred. More surprises than just this inspection plagued the Ouya team today. At 9 AM this morning, after renting the space in front of the Ouya booth, the ESA parked a row of trucks in front of the demonstration. The guys at Ouya countered this by hanging banners in the rented spaces in front of the ESA semi trucks.
The Ouya Twitter page offers their view on the antagonism between them and the ESA: "We aren't breaking any laws. Just trying to make @E3expo open to everyone. #occupyE3 #OUYAPark #E3."
Source: IGN
06/12/2013 06:15PM