Another Call Of Duty Poster, Another Leaked DLC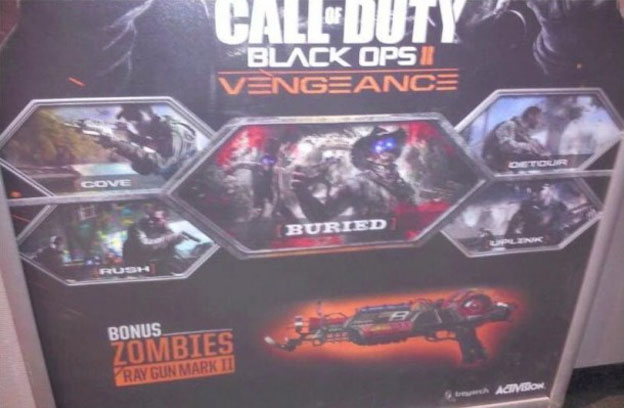 Call of Duty: Black Ops II is probably getting another DLC pack called Vengeance. How do we know this? Images of a brand new COD DLC poster have started popping up on the internet showing off the expansion and its new maps. Black Ops II's previous two expansions were leaked in the exact same way and both were confirmed to be true.
The Call of Duty: Black Ops II Vengeance pack will contain four new multiplayer maps called Detour, Uplink, Rush, and Cove. In addition, it will include a brand new Zombie map entitled Buried. Finally, the pack will also introduce a new gun to the Zombies mode, a "Ray Gun Mark II."
All of this info has not yet been confirmed by Activision, but the poster itself certainly looks official. If this DLC is real, it is likely to come out by the end of the summer, as Call of Duty: Ghosts, the next generation Call of Duty title by Infinity Ward, is due out this November.
Update: Activision has confirmed the Vengeance pack via their Facebook page. My zombie-killing instincts are starting to itch.
Source: PC Gamer
06/18/2013 12:50PM