GTA5 Comes On Two Discs, But Does Not Use Disc Swapping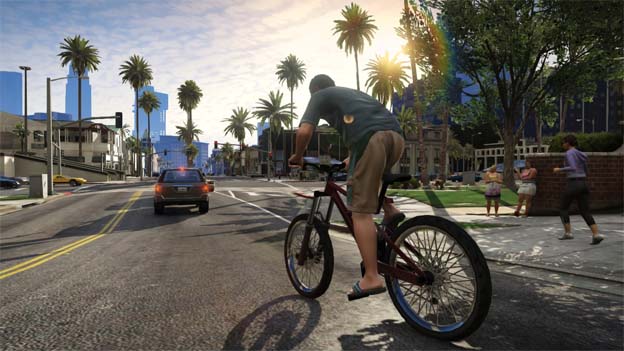 Rockstar has been hyping the size of Grand Theft Auto V's world as bigger than anything we have ever seen before. In fact, it's actually bigger than Xbox 360 discs can handle. As such, the game will come on two discs, like so many classic games of the PlayStation era. However, unlike those games you won't actually need to swap the discs during gameplay.
Instead, one disc will include the data for the world itself and will install this directly onto your hard drive. The mandatory install will be 8GB, so anyone with a 4GB Xbox will need to attach an external hard rive. The external hard drive needs to be at least 16GBs, with 8GB of free space. USB 2.0 compatability is also a must. Rockstar suggests foregoing a hard drive all together and instead picking up a new flash drive or solid-state device to play the game.
After installing the game, the second disc will be used during gameplay. On the PS3, the game will come on one Blu-ray disc, but will still require a mandatory 8GB install, so free up that space. The game's multiplayer mode will also be included on the "play" disc, though it appears as if it will be an entirely different game called Grand Theft Auto Online.
Grand Theft Auto V will launch on September 17th for the PlayStation 3 and Xbox 360. There is currently no word on a PC or next generation console release.
Source: Eurogamer
07/02/2013 12:30PM