Steam Sale Hitting Tomorrow?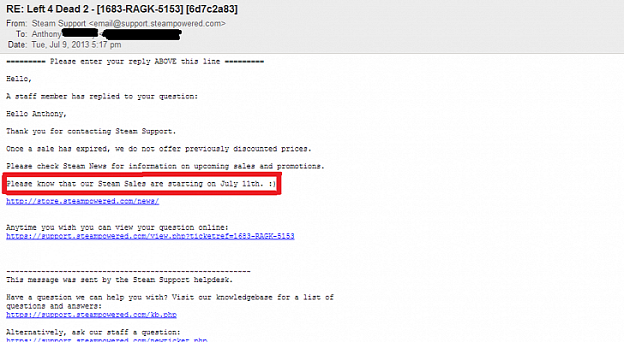 According to Steam support, it appears we may finally be getting the Steam Summer Sale tomorrow, July 11.
In an e-mail ostensibly sent to "Anthony" by Steam support (it claims the address to be email@support.steampowered.com), Steam responds to an apparent query he made about receiving a previous sale price for a game that had since gone off sale by informing him that, once a sale has expired, the discounted price is no longer offered. It then went on to say, "Please know that our Steam Sales are starting on July 11th. :)"
The trappings of an official e-mail all appear to be there, too, but those could easily be duplicated, and the e-mail address the message supposedly came from could easily have been spoofed or simply edited in after the fact. We don't exactly have to wait long to find out if it is true, though. Less than twenty-four hours, in fact.
Source: GamesReviews
07/10/2013 02:05PM